Just like Tanglewood . . . except "Barn Style"! Join us on Wednesday, August 17 at 5:30pm at the Great Barrington Historical Society Museum and Grounds at the Wheeler Farmstead, 817 South Main Street (Route 7) in GB. Bring your own food, drink, folding chairs or a blanket. Pot Luck desserts: bring a dessert to share. We'll supply a "Farmer's Punch" for those brave enough!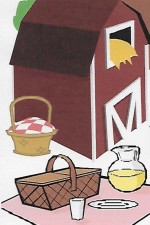 Our contractor, Scott Morrison, will be the guest speaker, with an update on the Dutch Wagon House reconstruction. Bring the whole family.
Looking forward to seeing you there.
Save