Welcome to the
GBHS Town Museum & Archive Education Center
at the Wheeler Farmstead
817 South Main Street (Rt. 7),
Great Barrington, Mass.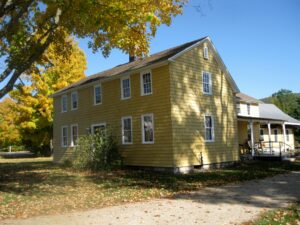 In 2007, after a 30-year search, the Great Barrington Historical Society (GBHS) found its future headquarters, Town museum, and education research center in the Truman Wheeler Farmstead on South Main Street in Great Barrington. It was rescued just days before the historic farmstead was scheduled for demolition by developers.
The Wheeler (also spelled Wheler in the early days) Family Farmstead, built in 1771, was the last surviving farm located near downtown. Its historic and architectural significance is extensive: original early Dutch buildings evolved into English style structures. The property and its owner played a significant role in the Revolutionary War and in the history of Great Barrington. The farmstead and museum tell the story.
At its peak, the Wheeler Family Farm contained about 374 acres in 7 parcels, extending to the Green River. Today, the Historical Society's holdings consist of the main house, a rare Dutch wagon house, and a complex of three additional farm buildings on 1.5 acres.
The GBHS board of directors saw the Wheeler Farmstead as an architectural gem worthy of preservation, and has committed to its restoration and use as a cultural attraction, education and archival research center, community meeting place, and town museum. In 2011, the Truman Wheeler Farmstead was placed on the National Register of Historic Places, reaffirming the site's important heritage on a local and national level.
Over the last several years, GBHS has raised enough funds in grants and donations to begin and continue restoration of the historic Dutch Wagon house, improve the electrical service at the farmhouse Museum, make the Museum handicap-accessible, and repair and stabilize some of the outbuildings and barns until additional money can be raised.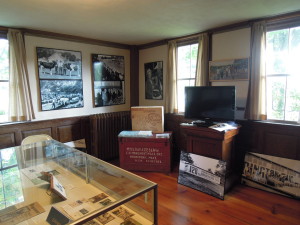 Please help us renovate the rest of the Wheeler Farmstead. When you look at the photo below of the original summer kitchen currently used as an office area, you'll see why we need your gifts!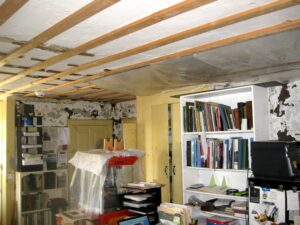 Save
Save
Save
Save
Save