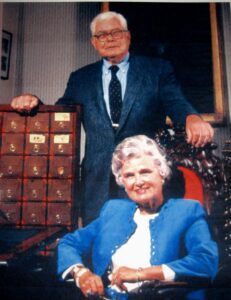 The Great Barrington Historical Society has been awarded a much needed $75,000 grant from the Jane and Jack Fitzpatrick Trust, in support of our continuing work to provide a town museum to the people of Great Barrington at the Wheeler Farmstead on Main Street (Route 7).
The Fitzpatrick Trust is a private charitable foundation established in 2004 by its founders. Long known for their philanthropy, the late Jane and Jack Fitzpatrick wished to continue the family's tradition of generosity and involvement in Berkshire County.
A long-time supporter of the Society, the seed funding to save the Dutch Wagon House addition to the main building came from a Fitzpatrick Trust grant years ago. So instrumental were the funds in the creation of that space, the GBHS officially named the addition the Jane Fitzpatrick Dutch Wagon House.
The new grant will be used to finally make a portion of our huge 55,000 piece artifact collection accessible to the public. The second floor of the farmhouse will be renovated to create a library in one room to house our books and to catalog our collection. The remaining rooms will be converted for archival storage.
Also, the renovation of the summer kitchen on the main floor will be completed along with insulation and climate control added to safeguard the collection. Below are photos of the work being done in the library room. The old wallpaper has been removed and plaster patching and ceiling work is in progress. Newer pictures show the views after the plaster work was completed.