For you fans of lavender, it's now lavender cutting time here at the Great Barrington Historical Society Museum's Colonial garden. Feel free to bring your scissors and cut a bunch for your sachets.
Open hours at the Museum are back to normal: Tuesday & Thursday 8-12 and Saturday and Sunday 10-2.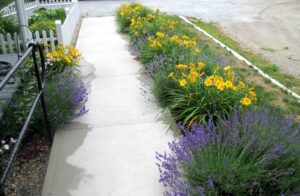 FYI: It is very appropriate to plant lavender at the 1770's Wheeler Farmstead as it was a key plant in every Colonial garden. Traditionally planted along a walkway where the ladies could brush against it with their long dresses to pick up its scent, lavender was used to freshen closets, dressers, spread on the floor to mask odors, and also to serve as an insecticide.
It was also used in beds to ward off bugs. Sleeping on a pillow filled with dried lavender was believed to cure insomnia. Used as a medicine, lavender was used to cure headaches, dizziness, calm nerves, ease menstrual problems, cure acne, soothe insect bites, and help with memory loss and melancholy.
For more information, call us at 413-591-8702 or email us at info@gbhistory.org. We're at 817 S. Main Street in Great Barrington, south of the Fairgrounds and across from the V.F.W.