SAVE THE DATES! The Back to School exhibit at the GBHS Museum opens on Saturday, April 7th–and this year's GBHS Annual Meeting is on Wednesday, April 18th and features local author and historian A. David Rutstein speaking about the history of Searles High School.
Our Back to School theme opens with our Museum exhibit: School Days in Great Barrington. Add your personal touch to the display highlighting the history of Town public and private schools by loaning us your artifacts on a short-term (April & May) basis. Contact Executive Director Bob Krol at the Museum (413-591-8702). All items should be donated by late March to be included in the exhibit.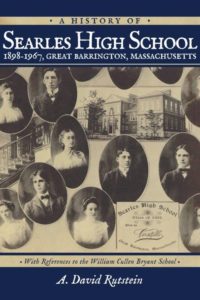 On Wednesday, April 18th the GBHS Annual Meeting takes place at 7pm at the Claire Teague Senior Center, 917 South Main Street, Great Barrington. After Bob's "State of the Society" report and a short business meeting, Mr. Rutstein will take the audience on a look back at the history of Searles High School.
David recently published his book, Searles High School: 1898-1967, Great Barrington, Massachusetts, and will be available for book sale and signing. This event is free and open to the public. For more information, please call 413-591-8702 or email us at info@gbhistory.org.