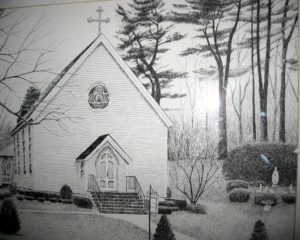 Nancy Fay Hecker of Apple Hill Design is  contributing her display and artistic talents to the production of the Society's next exhibit featuring the work of Housatonic-born and South County resident Frank Packlick. Look for it next month at the GBHS Town Museum at the Wheeler Farmstead.
For over 60 years, artist Frank Packlick made pen and ink drawings of all kinds of subjects throughout the Berkshires, Litchfield County CT and in nearby New York State. The GBHS has a collection of over 100 of his prints in its archive at the Wheeler Farmstead.
If you'd like to contribute to this display by loaning your framed pieces on a short-term basis, please stop by the Museum this month on Saturdays or Sundays from 10am to 2pm. For more information, call us at 413-591-8702 or email us at info@gbhistory.org.
Save
Save
Save
Save
Save
Save
Save
Save
Save
Save
Save
Save
Save
Save
Save