Although the GBHS Museum and Farmstead have been closed to visitors due to state pandemic restrictions, lots of work has been happening both outdoors and within the Museum's kitchen area during the winter and spring.
Gary Leveille, the Society's archivist as well as local author and historian, is a man of even more talents. He not only made extensive repairs to the big red barn's siding (which was rotted and smashed in numerous places), he also made carpentry improvements inside the separate antiques barn, opening up a section of it for more display space. In addition, Gary also redesigned the Dollar Barn interior in the big barn and built new shelving for it.
GBHS board member Robert Tepper did carpentry work and built shelves in the antiques barn. Gary also cleaned out debris from the Dutch Wagon House adjoining the farmhouse, and he and Robert expanded the Book Nook (also in the big barn) and redesigned its interior.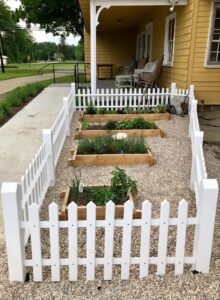 With funds donated by the former Great Barrington Garden Club, a colonial doorstep garden with plants popular in that era features raised beds surrounded by a white picket fence. Perennials planted last fall now line the handicap accessible ramp from the entry steps to the parking area.
In the kitchen area of the administrative office (shown below), a cabinetry has been installed on the wall adjoining the Dutch Wagon House. A farmer's sink and countertops in soapstone, and a Colonial-style faucet complete the unit.
The handicap accessible bathroom is now complete with the addition of an antique mirror and ADA-approved towel dispenser.
Click on any picture to see it larger.