The Great Barrington Historical Society's exhibit, "An Old Fashioned Christmas" at the Museum at the Truman Wheeler Farmstead, 817 South Main Street (Route 7) in GB, remains on display until Saturday, January 19th. It's definitely a "don't miss"!
You'll trace the history of the Christmas tree from the Colonial period to the Victorian era, through the 1950's and on to the present. You'll can discover the origins of many of our modern day Christmas traditions, including the hanging of stockings and  Christmas wreaths and the sending of Christmas cards.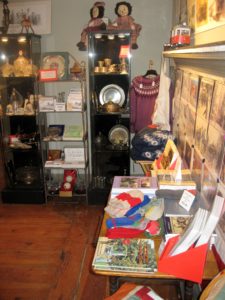 It's a perfect time to shop, too . . . 
While you're visiting the exhibit, make sure to check out our gift shop area (see photos left, and below). Get some after-holiday bargains! Plenty of great quality items are still here.  Featured for sale are many beautiful handmade crafts for treating yourself, or to put away for the next holiday season.
The Museum is open Monday through Thursday from 9 am to 12 noon and Saturday and Sunday from 10 am to 2 pm. A free cup of coffee or hot chocolate will be waiting for you!
Putting away holiday decorations?
If you're downsizing your future decoration plans, please consider donating your items to our ever-expanding Christmas display. We're planning an even bigger display next year! No electric lights are needed, but we are looking for donations of:
Dept. 56 and Lemax Christmas Village items
A 3′ artificial tree with stand
Green natural-looking garlands
Vintage glass ornaments, especially a Christmas bulb box from F. W. Woolworth's
50's and 60's plastic "Santa on a reindeer" light, on skis, etc.
Anything else – especially vintage!
When in doubt about an item, our motto is "Don't throw it out! Give it to the GBHS and let us decide whether to keep, sell, or throw it out."
For more information, call us at 413-591-8702 or email us at info@gbhistory.org.