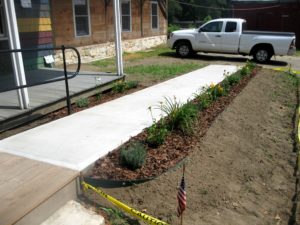 Thanks to a Town CPA grant, the handicap walkway to the GBHS Museum was completed in late July. On August 7, thanks to a generous donation last year from the former Great Barrington Garden Club, Executive Director Bob Krol planted 20 colonial plants (lavender, coneflowers, and daylilies) on both sides of the walk.
The concrete ramp, its attached wooden deck for wheelchair access to the porch, and the marble step for general use adjoining the front path are now in place. John Graney Metal Designs of Sheffield installed the Colonial-style metal handrails and posts right before the Annual Antique Show & Flea Market on July 27, making the walkway fully handicap-accessible in time for the event. The GBHS gratefully thanks Mr. Graney for his timely work and a discounted price.
Pictured at left is the railing along the upper part of the concrete walkway as viewed from deck before the plantings were added.The Society also thanks both Hewins & Sons of Sheffield and Bassett Foundations of Southfield for their work on this project at discounted rates. The walkway and deck now meet the US government ADA standards and Town Planning Board and Building Inspector requirements.